Passages Ventura Addiction Cure Center Reaches Client Milestone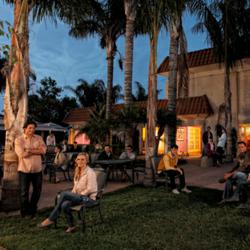 Ventura, CA (PRWEB) June 08, 2012
Passages Ventura, the affordable rehab center and sister facility to the world-famous Passages Malibu, has reached a new milestone since debuting in 2009. Passages CEO and co-founder Pax Prentiss announced today that Passages Venturas cumulative census has reached 1,000 clients, averaging an impressive 28 clients per month steadily since opening its doors.
Were exceeding our expectations and cant wait to start moving toward opening more facilities in other cities in the coming years. We know that not everyone can afford to come to Malibu, and thats why it was important for us to offer Ventura as a more affordable rehab center that offers the same unique experience which is more one-on-one therapy than other high end rehab centers, more customized treatment plans, and more addiction treatment modalities, says Prentiss.
The holistic, non-12 Step rehab center has also recently undergone a design upgrade to make the facilities in Ventura Countys Port Hueneme, which is just blocks from the harbor and from the Pacific Ocean, even more beautiful and accommodating for our ever-expanding client roster. The facility features an extensive outdoor exercise space that includes a half-court basketball court, a volleyball/badminton net, a running track, an outdoor exercise station, horseshoes pit, several lounge areas, and a fireplace, set amidst luscious gardens.
Passages Ventura offers two different treatment plans that include up to 18 holistic, non-12 Step addiction treatment modalities, which are acupuncture, acupressure, art therapy, blood chemistry analysis, chemical dependency counseling, continuing care, medically supervised detox, family therapy, hypnotherapy, life purpose counseling, massage, meditation, nutritional counseling, psychotherapy, physical fitness, sound therapy, Tai Chi, and yoga.
About Passages Malibu & Passages Ventura:
Founded by Chris Prentiss and Pax Prentiss, Passages Malibu opened in 2001 with its second location, Passages Ventura, opening in 2009. The two drug and alcohol abuse treatment centers offer an alternative to the 12 Step/AA model of addiction treatment by taking a holistic approach with a program that focuses on the underlying issues of substance dependency, rather than suggesting that addiction is an incurable disease. Passages Malibu and Passages Ventura have earned the coveted JCAHO (Joint Commission on the Accreditation of Healthcare Organizations) accreditation, which has only been given to 6% of the nations behavioral health treatment programs. The co-founders are also authors of the acclaimed series of treatment books that include their groundbreaking flagship book, The Alcoholism & Addiction Cure. At Passages, we believe: Addiction Ends Here. For general inquiries about treatment, contact: 866-233-1753
For media inquiries, contact:

press(at)passagesmalibu(dot)com